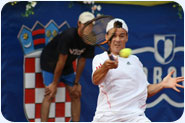 Umag

Umag is situated in the north-east coast of Istria and it's the perfect frontdoor from Europe to Croatia. It's popoular as tourist-sport centre thanks to the ATP tennis tournament that take place in July. Also the inland hdes a lot of tourist attraction: it's possibile to do mountaineering, speleological expeditions, to ride but also to visit the ancient rural villages, that now have been discovered and exploited as art's centres.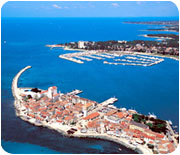 Its sea:
Umag's littoral is really variegated: there are cliffy beaches, sandy beaches and pebbly beaches, the sea is easy at access and so is perfect for children. In all the littoral there are public beaches and the pine-wood, which follows all the coast and arrives directly to the seaside, is very nice, the meeting, under the secular pines, with the squirrels will not miss. Along the coast, under the pine-wood, there are typical refreshment rooms where it's possibile to eat the typical "cevapcici" and "raznici" with an excellent "Pivo" (the croatian of beer). A cycle path skirts all the littoral and there's a mini-train's service that connects the bathing zone (3 kms long) with Umag centre. In many zones it's possibile to come the seaside directly by car.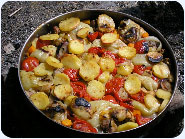 Where going to eat:
Konoba Murine. Restaurant / inn near our house which is famous for the quality/price ratio. (typical dishes: raznici, cevapcici, roast sucking-pig, fish and crustaceans). There are many fish restaurant on the coast while on the inland there are a lot of farm holidays where it's possibile to eat meet cooked in the "Peka" (bell made by cast iron totally covered by embers). In the right season, savoury games and truffles are abundant.